.....well as well as can be anyway. The kids haven't been too bored thank goodness and busily enough keeping themselves amused with DVD's, XBOX, TV, a little gardening (as they help Tim) fighting, eating and generally doing what kids do best.
Yesterday Tim took them for a drive to Lake Eppalock about 20 mins out of town only to see it even lower then ever. Gosh I can remember that lake always being so full and way over 100% full as it use to flood often but just one more lake slowly disappearing due to this drought, not only Bendigo is in but the whole of Australia is battling with.
Today I am busy on the computer...lol it's my day today without any interruptions so I make the most of it and the kids generally leave me alone especially when they know the work I am doing is important...like designing a new kit or FTP'ing and writing descriptions....that's what I am doing today. I did create another part to my Cornflowers Blue kit yesterday an alpha tag set. Looks so good and I am really happy with it but you are all going to have to wait till i is finished before I show a little sneak peek of it.
I am truly a night owl.....not much good getting out of bed in the mornings but I am a night owl nevertheless and last night when everyone was in bed I opened up PSE3 and got busy creating a LO that I think I started around 1am.....yes you read right and I was finished by 1:45 and then went to bed. Actually I've been on a creative run at the moment with designing and creating LO's so I feel really good.
So here is the LO I did last night....oh well early this morning when everyone else was no doubt snoozing.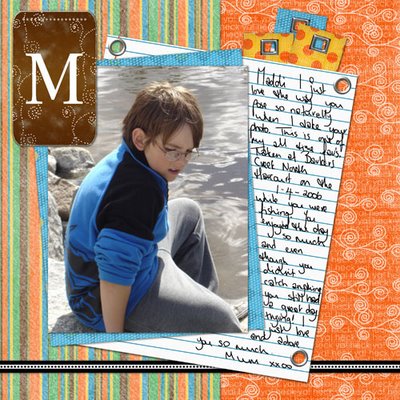 Credits:
McCaigBean Heck Ya Kit
Fonts:
my own handwriting using a wacom tablet!
Journaling reads:
Maddi I just love the way you pose so naturally when I take your photo. This is one of my all time fave's. Taken at Barkers Creek North Harcourt on the 1-4-2006 while you were fishing. You enjoyed the day so much and even though you didn't catch anything you still had a great day trying. I just love and adore you so much. Mum xxoo
I love this LO and the kit was just perfect for it. It is one I have had for some time now but have only just started using it and I have fallen in love with it.
Ok well I think that's enough from me for now. Ciao for now buddies one and all.